Wallace Eannace, with manufacturing partners Xylem Bell & Gossett, Lochinvar, Metraflex, and Tisdale Manufacturing deliver high quality, energy efficient HVAC solution to large building expansion project in Brooklyn, NY.  Working with an exclusive project team including developer Brookfield Properties, their Construction Management firm Consigli, and MEP Engineering Firm Cosentini Associates, Wallace Eannace contributed to the HVAC system design, equipment selection, and manufacturing process; resulting in the delivery and installation of several compact prefabricated HVAC packages that reduced overall construction schedule, on-site labor, waste, and general risk.  Installation was completed by R&S United Services.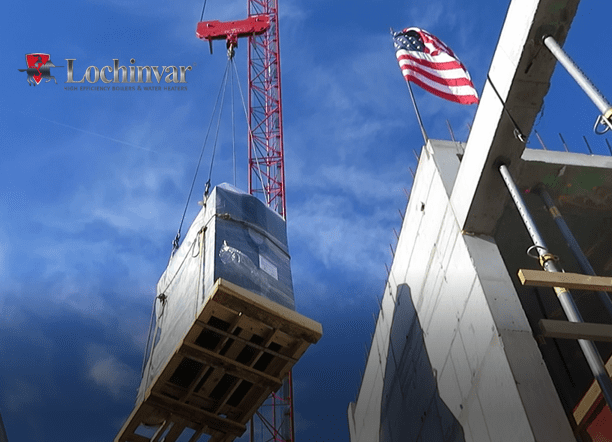 WATCH VIDEO: R&S UNITED SERVICES TISDALE PREFAB INSTALLATION
The Project
Rising at Greenpoint Landing, Brooklyn NY, a 31-story towers has arisen clad in brick and glass. The building's mechanical systems were designed by Cosentini Associates and installed by R&S United Services. One Bell Slip is a 368-foot-tall building that yields 379,803 square feet, of which 292,029 will be dedicated for residential space (413 units) and 992 for commercial use. The overall Greenpoint Landing development will eventually create a whopping 5,500 residential units, with 1,400 designated for permanent affordable housing.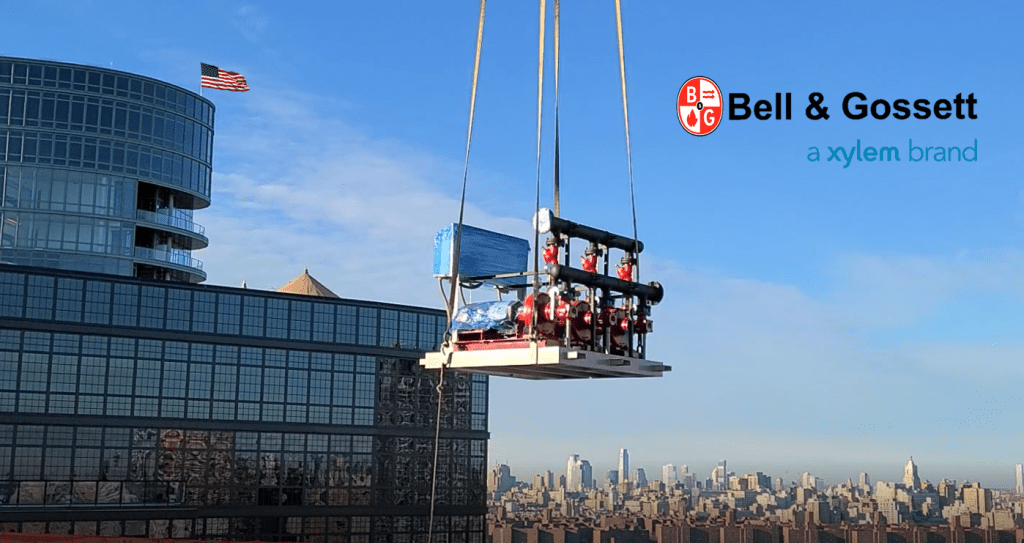 Photo Above: Tisdale Manufacturing Prefab Triplex Pump Package with VFD
The entire complex will go from an industrial area to a thriving mixed-use neighborhood with mixed-income housing, retail and new public parks and green space. The plan re-establishes the neighborhood's waterfront connection through the creation of new streets, new housing, new waterfront parks, and a new public school, all designed to integrate into Greenpoint's already thriving, diverse community.
According to Darryl Clark, Corporate Vice President Wallace Eannace, "No matter the requirement, Wallace Eannace and Tisdale Manufacturing can exceed them. We specialize in unique applications, maintain high-quality standards, and have the flexibility to ensure all project demands are met. This new Brookfield Property is an innovative structure and will create a wonderful change in the community. The new public school will create opportunities for young children to receive and thrive in a new environment. Being right on the water, the building was a challenging undertaking but completed as expected. This has been a great project for Wallace Eannace and its wonderful manufacturing partners (Lochinvar, Xylem Bell & Gossett, Metraflex and Tisdale Manufacturing) to be a part of. We are all thankful."

High – efficiency equipment selected for the prefabricated skids, manufactured by Tisdale Manufacturing: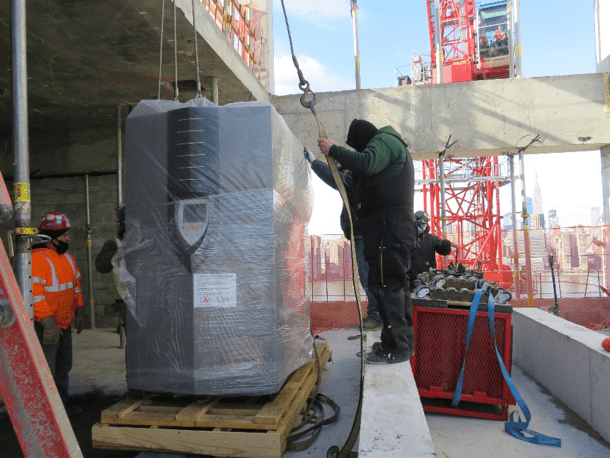 For 52 years Tisdale Manufacturing has assembled, tested, and delivered complete modular and prefabricated HVAC systems throughout the United States and around the world. Using lean manufacturing methods, the latest engineering design software, and lower – cost labor and production facilities, they are able to be the most cost-effective prefabricated on the market. According to Adam Hersh, Director Sales and Marketing, "We love working with our local representatives, like Wallace Eannace, to build custom, high quality, energy efficient solutions, that exceeds their end customer's expectations. We look forward to working with you and meeting your needs for all your modular HVAC/R and Plumbing projects. It brings our employees extreme pride to see the project go from start to finish, concluding with a successful start-up and commissioning"
According to Louie Tisdale, Vice President Manufacturing, "Tisdale packages are custom designed and manufactured to each project's unique performance requirements. Most HVAC skids come complete with structural bases, vibration isolation, product controls, wired and terminating at an onboard junction box, welded distribution piping and headers, fully tested and secured for delivery to the job site or staging yard. With the U.S. military as a customer, our performance has to be exact. We pride ourselves on it".
WATCH VIDEO: R&S UNITED SERVICES TISDALE PREFAB INSTALLATION
About Wallace Eannace
For over 96 years Wallace Eannace has brought innovative and cost-effective system solutions to the plumbing and HVAC industries through quality products and a local network of wholesale distributors.
Working with Engineers, Property Managers and Contractors, Wallace Eannace provides technical knowledge, sizing, design, and field support.
Contact
Darryl Clark, Wallace Eannace | 800.932.4454 | dclark@wea-inc.com
Adam Hersh, Tisdale Manufacturing | 877.326.6223 | ahersh@tisdaleprefab.com