Construction is progressing nicely at 601 West 29th Street, a 60-story residential skyscraper in West Chelsea on the border with Hudson Yards. Known as Tower A in a two-building development along with 606 West 30th Street, the 695-foot-tall building is designed by FX Collaborative and developed by Douglaston Development. The building will be a mixed-use residential tower that will bring 235 affordable housing residences to west Chelsea. In addition to the 938 rentals, components include over 50,000 square feet of amenity space and 15,000 square feet of retail space.
Video: Prefab Pump Package Set

Wallace Eannace, with manufacturing partners Xylem Bell & Gossett, Metraflex and Tisdale Prefab, were able to provide a high quality, energy efficient HVAC solution through the use of several compact prefabricated packages that have reduced the overall construction schedule, on-site labor, waste, and general risk.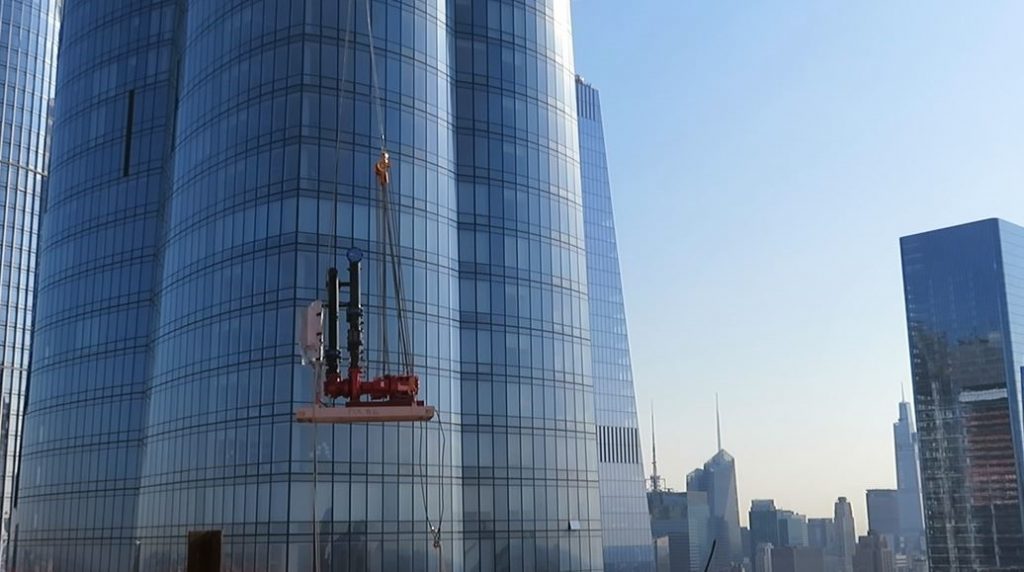 The project team included:
Wallace Eannace | HVAC & Plumbing Consultation and Sourcing: Darryl Clark, Corporate Vice President
Wallace Eannace | HVAC & Plumbing Consultation and Sourcing: Jonathan Mehr, Sr. Engineer
Tisdale Prefab | Packager: Adam Hersh, Director Sales and Marketing
Cosentini Associates | Mechanical Engineer: Hiral Patel, Engineer
Levine Builders | Construction Manager: CeMara Adams
KSW Mechanical Services | Mechanical Contractor: Peter Costigan
FXCollaborative | Architect
Douglaston Development | Developer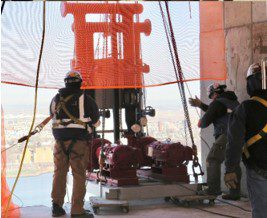 Highly efficient and reliable equipment was selected for the prefabricated skid packages, including:
Video: Prefab Pump Package Set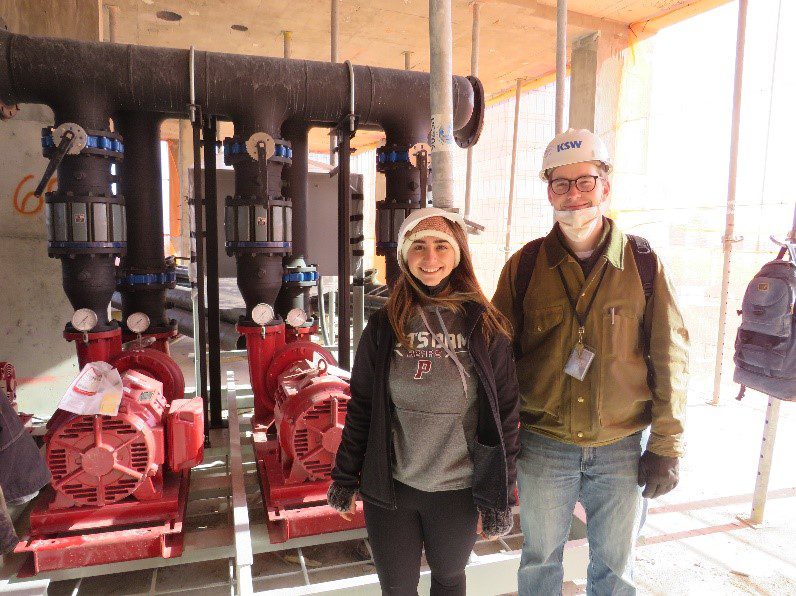 (Pictured above: Fallon Blacharski, Wallace Eannace and Peter Costigan, KSW Mechanical)
According to Darryl Clark, Corporate Vice President Wallace Eannace, "We are excited to be back at Hudson Yards on the West Side of Manhattan. It feels great to, once again, provide Prefabricated Pumping Skid Solutions to this great city. We are fortunate to work with a Top Tier Mechanical Contractor like KSW Mechanical, who understands the value of Prefabrication. Wallace Eannace and Tisdale Manufacturing specialize in maintaining high-quality standards. No job is too big or too small. They all get the same attention to detail. We look forward to working on your next project with you."
About Tisdale Manufacturing
For 52 years Tisdale Manufacturing has assembled, tested, and delivered complete modular and prefabricated HVAC systems throughout the United States and around the world. Using lean manufacturing methods, the latest engineering design software, and lower – cost labor and production facilities, they are able to be the most cost – effective prefabricated on the market.
About Wallace Eannace
For over 95 years Wallace Eannace has brought innovative and cost-effective system solutions to the plumbing and HVAC industries through quality products and a local network of wholesale distributors.
Working with Engineers, Property Managers and Contractors, Wallace Eannace provides technical knowledge, sizing, design, and field support.
Contact: Darryl Clark, Wallace Eannace | 800.932.4454 | dclark@wea-inc.com
Contact: Adam Hersh, Tisdale Prefab | 877326.6223 | ahersh@tisdaleprefab.com
Schedule a 15 minute Vcall to discuss prefab solutions for your next project: