Mount Sinai South Nassau Hospital is constructing a $130 million, 100,000 sq ft, four-story addition that will double the size of its Emergency Department, add 40 critical care beds, and nine new operating suites to better serve the South Shore of Long Island.
Video: Prefab Pump Package Set

Wallace Eannace, with manufacturing partners Xylem Bell & Gossett, Metraflex and Tisdale Prefab, were able to provide a high quality, energy efficient HVAC solution through the use of several compact prefabricated packages that have reduced the overall construction schedule, on-site labor, waste, and general risk.
The project team included:
Wallace Eannace | HVAC & Plumbing Consultation and Sourcing: Darryl Clark, Corporate Vice President
Wallace Eannace | HVAC & Plumbing Consultation and Sourcing: Jonathan Mehr, Sr. Sales Engineer
Tisdale Prefab | Packager: Adam Hersh, Director Sales and Marketing
AKF Group| Mechanical Engineer: Matt Yandoli, Engineer
KSW Mechanical LLC | Mechanical Contractor: Bill Gillen
LERA | Structural Engineers
VHB | Civil Engineers
Highly efficient and reliable equipment was selected for the prefabricated skid packages, including: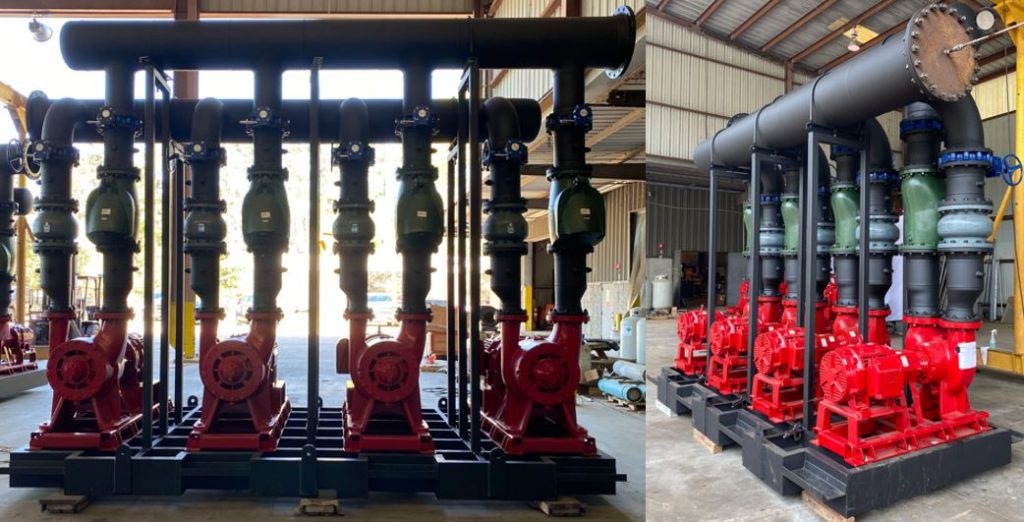 According to Jonathan Mehr, Sr. Sales Engineer "Wallace Eannace and its prefabrication partner Tisdale Manufacturing worked very closely with the project team to ensure that the system solution was designed, engineered, assembled, and tested so that the end customer's expectations were exceeded for both energy efficiency and equipment life expectancy. There were two custom skid packages for this project. On the construction site, there was seamless coordination. The headers were delivered disconnected for ease of installation."
About Tisdale Manufacturing
For over 50 years Tisdale Manufacturing has assembled, tested, and delivered complete modular and prefabricated HVAC systems throughout the United States and around the world. Using lean manufacturing methods, the latest engineering design software, and lower – cost labor and production facilities, they are able to be the most cost – effective prefabricated on the market.
About Wallace Eannace
For over 95 years Wallace Eannace has brought innovative and cost-effective system solutions to the plumbing and HVAC industries through quality products and a local network of wholesale distributors.
Working with Engineers, Property Managers and Contractors, Wallace Eannace provides technical knowledge, sizing, design, and field support.
Contact: Darryl Clark, Wallace Eannace | 800.932.4454 | dclark@wea-inc.com
Contact: Adam Hersh, Tisdale Prefab | 877326.6223 | ahersh@tisdaleprefab.com