The Spiral is a 1,005-foot-tall office tower to be sustainably constructed in the rapidly developing Hudson Yards district of Manhattan's Midtown West. A cascading series of landscaped terraces and hanging gardens will define the signature building with readily accessible outdoor space catering to a dynamic, mixed-use urban community.
The tower, developed by Tishman Speyer, will comprise 2.85 million square feet, incorporating 65 stories and 27,000 square feet of first-class retail. Designed by renowned architectural firm Bjarke Ingels Group, The Spiral's form takes inspiration from the classic Manhattan step-back as it tapers vertically with green spaces circling from base to top. The terraces will provide each floor with outdoor space and multi-floor atria for dynamic work space flow or unique meeting areas. Center-core open floor plans will allow for flexible configurations, while soaring ceiling heights and virtually column-free floor plates will provide spectacular, unobstructed city and river views. The Spiral is expected to cost around $3.7 billion.

Wallace Eannace and Tisdale Prefab , with manufacturing partners Lochinvar, Xylem Bell & Gossett, and Metraflex have provided high quality, energy efficient HVAC solutions through the use of five (5) compact prefabricated packages that reduced overall construction schedules, on-site labor, waste, and general risk for the Spiral building construction.

The Project Team:
Wallace Eannace | HVAC Design Support and Sourcing: Stephen Martin and Darryl Clark
Tisdale Prefab | Skid Packages: Adam Hersh
Turner Construction | Construction Manager: Michelle Weill, P.E.
JDP Mechanical | Mechanical Contractor: Peter Manos Jr. CEO
Cosentini Associates | Engineer: Carl Rasizzi
Tishman Speyer | Owner

Highly efficient and reliable equipment was selected for the prefabricated skid packages, including: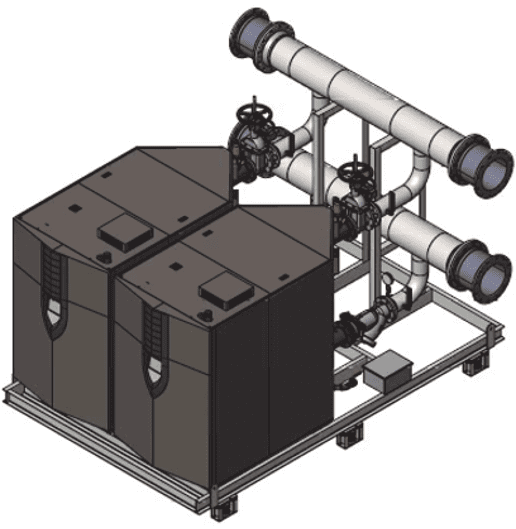 According to Darryl Clark, Corporate Vice President Wallace Eannace "Wallace Eannace and its prefabrication partner Tisdale Manufacturing continue to bring dependable, value added solutions that speed construction and reduce cost. It is that simple. For 96 years we have provided HVAC engineering advisement for commercial construction to increase energy efficiency and elongate equipment life. For 50 years we have integrated these solutions into high quality prefabricated packages. At the end of the day, it's about adding value. We're excited to have brought our solutions to 66 Hudson and to the overall project team, including: Tishman Speyer, Cosentini Associates, Turner Construction, and JDP Mechanical."
About Tisdale Manufacturing
For 52 years Tisdale Manufacturing has assembled, tested, and delivered complete modular and prefabricated HVAC systems throughout the United States and around the world. Using lean manufacturing methods, the latest engineering design software, and lower – cost labor and production facilities, they are able to be the most cost – effective prefabricated on the market.
About Wallace Eannace
For over 95 years Wallace Eannace has brought innovative, energy efficient, and cost-effective solutions to the plumbing and HVAC industries.
Working with Engineers, Property Managers and Contractors, Wallace Eannace provides technical knowledge, product selection, sizing, design, and field support.
Contact: Darryl Clark, Wallace Eannace | 800.932.4454 | dclark@wea-inc.com
Contact: Adam Hersh, Tisdale Prefab | 877.326.6223 | ahersh@tisdaleprefab.com