PLAINVIEW, New York, April 20, 2020/Wallace Eannace/– Sensus, a Xylem brand, partnered with Wallace Eannace out of Plainview NY is meeting the urgent call for protective gear in the battle against COVID-19. Sensus, a manufacturer and solutions provider of smart infrastructure solutions has diverted manufacturing capacity in order to produce protective masks to be worn by essential workers, including medical professionals and first responders. As a representative of Sensus and other Xylem brands that solve water, Wallace Eannace reached out to the First Responder/ Medical community and found that there was an urgent need for these face masks as well as N95 face protectors. On April 20th, Wallace Eannace's Darryl Clark, Corporate Vice President, delivered its first of several shipments of this essential equipment to Plainview Hospital, part of the Northwell Health System. According to Darryl Clark, "we are all in this fight together. No one can shirk their responsibilities to do their part in saving lives. Over the next few weeks we will be working with Sensus and Xylem to deliver many more boxes of protective gear to those whom are on the front line in this fight".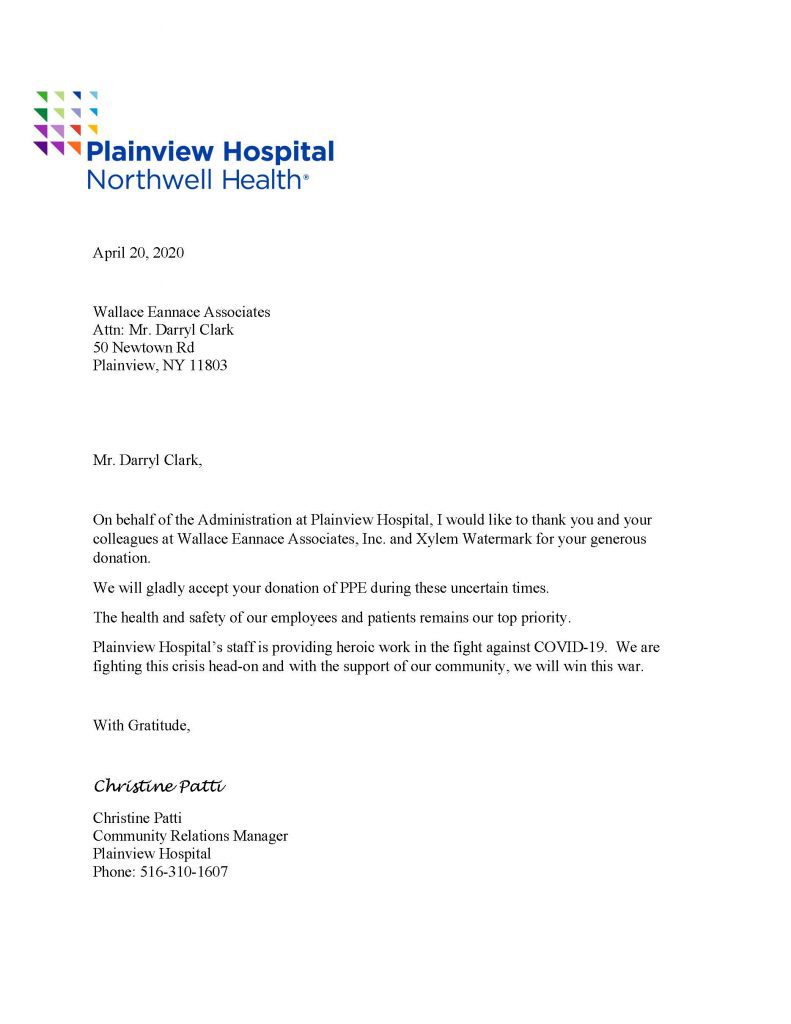 About Wallace Eannace
For over 95 years Wallace Eannace has brought innovative and cost-effective system solutions to the plumbing and HVAC industries through quality products and a local network of wholesale distributors. Working with Engineers, Property Managers and Contractors, Wallace Eannace provides technical knowledge, sizing, design, and field support.
For more information: Fallon Blacharski, Public Relations 800.932.4454 | fb@wea-inc.com