Headquartered in Lynbrook, NY, Herbert Slepoy completes third apartment heating plant replacement. CEO, Andrew Slepoy explained, "As a third-generation company that manages properties throughout the NY Metropolitan market, we need to work with companies that we can rely on and will protect our companies' interests.  AWS Mechanical is such a firm, completing quality work at the right price.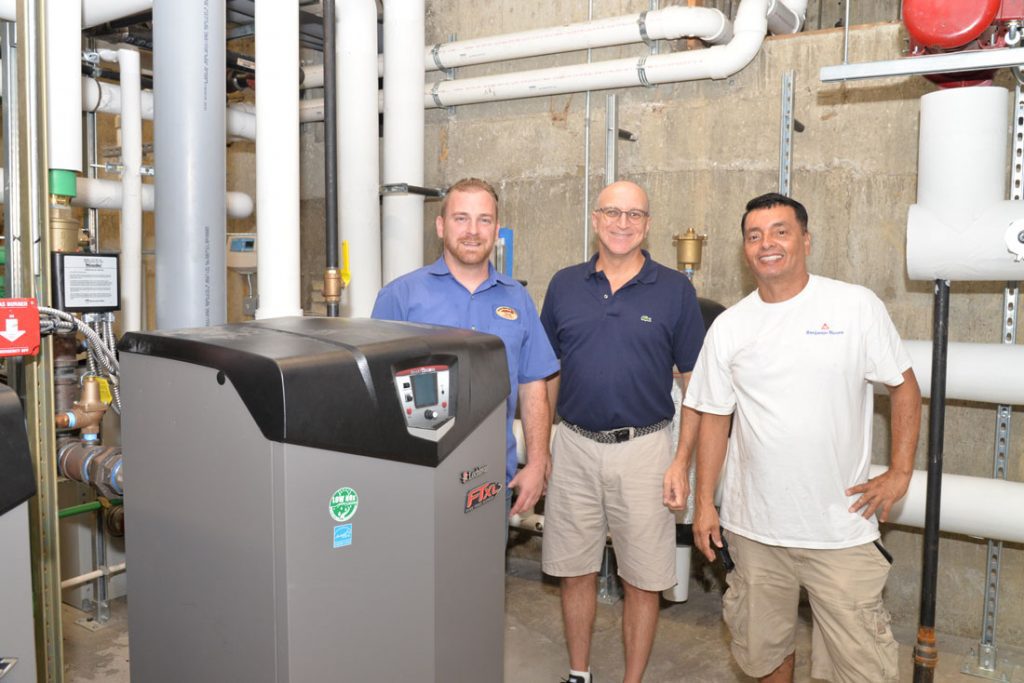 Project Highlights
Property: Greentree Condo, Lynbrook, NY
Property Manager: Herbert Slepoy Corporation
Plumbing Mechanical: AWS Mechanical
Manufacturer's Rep: Wallace Eannace
Products Used:
Problem
Three 1970's buildings had aging equipment which was causing no-heat | no-hot-water complaints from tenants. Additionally, maintenance costs were rising rapidly.  Service parts were also not available.
Solution
Stephen Strouse, COO of AWS Mechanical, working with Jerry Katz, Wallace Eannace, designed a new cost effective and efficient heating plant, taking into account capital equipment costs, operating efficiency, and equipment life expectancy.
Their project proposal along with return-on-investment calculations was presented to the co-op board. Following approval, the renovation took approximately eight weeks from rip-out to start-up.  AWS's Stephen Strouse noted, "we work with Wallace Eannace for product sizing, selection, drawings, and field support. They are with us every step of the way".
AWS was able to deliver a high-quality heating plant to Slepoy Property Management that met their expectations and provided a seamless, no interruption of service, experience to the tenants.  According to Andrew Slepoy, "the new heating plant has provided us with everything we were looking for and as a bonus, the apartments directly over the boiler room is now quiet and not overheating due to the high standby losses of the old equipment".
AWS Mechanical chose Aquatherm polypropylene piping on all three of the Slepoy projects, taking advantage of the material's high-performance properties, warranty and ease of installation. Additionally, AWS Mechanical will be starting the replacement of hot and cold domestic hot water mains in the underground garage of the Greentree Condo building.  The existing 45+ year-old copper piping has dozens of repairs due to corrosion.
About
Herbert Slepoy Corporation:for three generations, Slepoy has provided management services to residential and commercial properties throughout NY Metropolitan market.
AWS Mechanical:  provides maintenance, repair, installation, and troubleshooting of plumbing, heating, and HVAC systems.  Serves all of Nassau County and Western Suffolk County. Founded by Licensed Master Plumber William Strouse, AWS has extensive knowledge of plumbing and hydronic heating systems for residential and commercial buildings. AWS has been in business since 1989.
Wallace Eannace:For almost a century Wallace Eannace has specialized in the movement of water in residential and commercial structures for heating, cooling, and domestic use.  As technical experts, they assist building developers | owners, engineers, contractors, Property, and facility managers with design, sizing, sourcing, installation, and extending equipment life.